Kobe Bryant walked through the Staples Center tunnel on Monday night, this is the same tunnel with loading dock where reporters used to always stop him every time long after the game was over and the press conference was done.
This time, Bryant stood third-leading scorer of all time after the 20 months of his 20 years run came to an end. The reality of the retired life is about to be experienced very soon. When he walked out the tunnel, he was accompanied by 1-year-old daughter, Bianka, five-star stroller, his wife, Vanessa, and older daughters, 14-year-old Natalia and 11-year-old Gianna along in that Darth Vader black suit. The president of his lakers family "Magic Johnson" his former agent/Lakers general manager Rob Pelinka also flocked his way soon after.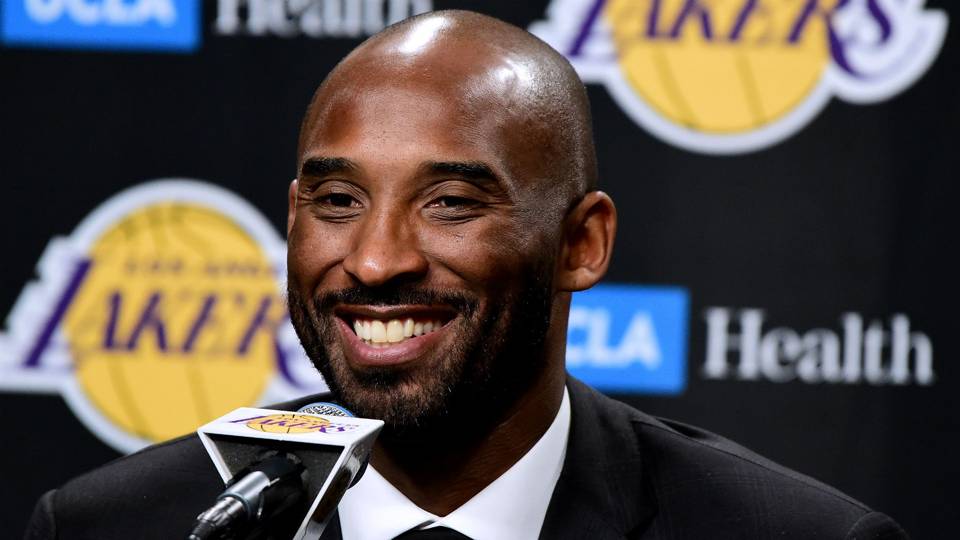 Bryant was back and hence the retirement of the No. 8 and No. 24 jerseys that he uses to wear so well and more than willing to take this walk down memory lane.
This evening resulted in a debate when he was being forced to comment upon as to which number he prefers over the other. Number 8 reflects the initial 10 years of his career where there were plenty of highs (three championships alongside Shaquille O'Neal) and lows (the Eagle, Colo., chapter). And on the other hand, number 24 is a sort of revenge tour, where it was a kind of mission for him to win O'Neal at his side (2009 and 2010). In one of the press conferences, he gave the following statement:
https://usatftw.files.wordpress.com/2016/02/kobeeee.jpg?w=1000&h=600&crop=1
"I kind of go back and forth (on which number he prefers)," Bryant said. "(No.) 8 has something that 24 will never, ever, ever, ever have, and that's the ability to grow hair. So it's tough …"
"It's really, really tough for me," he continued. "I think 24 was more challenging, and I tend to gravitate to things that are harder to do. Physically for me, it was really, really hard to get up the night in and night out. It was a grind. Taking on the Boston Celtics (in the 2010 Finals), and having a bone fragment in my foot during that series, having a broken finger, muscling through that back half of the career. It was some of the toughest stretches of basketball ever, man. So I guess if you force me to pick one, I'd probably go 24 because of that."
To be trustworthy, Bryant has really not gone completely out of touch.
He is in regular communication with Pelinka. Also, Johnson and owner Jeanie Buss are always there for him whenever he is in need.
Though he is retired now, he still has a plenty of things to indulge himself in something or the other. He gets up early in every morning by 4 AM and goes through with his work out session till 5 AM. Along with the family duties, he is also indulged in some media projects like "Dear Basketball", (which is in the running for an Oscar) that makes him quite happy.
Despite the general expectation that so many former players generally have, Bryant gave the following statements in some press conferences:
"You know what, I had a lot of players, former players, come up to me in the last year, like genuinely concerned, like 'Are you going to be OK?'" Bryant said. "I'm like, 'Yeah, I'll be all right.' They're like, 'Listen, it's going to be progressive. The first week, there's going to be a serious state of depression. The second week, you're going to be angry. The third week, you're going to start coming around having a level of acceptance.' I'm like, 'What the (expletive)? No, seriously, I'm good.'
"I think the most important thing is finding what you love to do. That's the hardest part, and it took work. … It took a lot of work, a lot of soul-searching, a lot of investigating, trying things out, but when you find what it is that you love to do when you wake up every morning with a sense of purpose. So my life has been great. I fell into a great routine. I work out at 5 o'clock every morning, take the kids to school, get some breakfast with my wife, go to the office, work there, pick the kids up. And then from there, it's just volleyball here, basketball here, soccer there, you know what I mean? That's my routine."